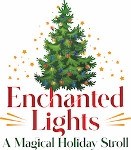 EnchantedLightsPittsburgh.com
Enchanted Lights Pittsburgh
EnchantedLightsPittsburgh.com
282 rochester road, Freedom, PA 15042
Nov. 24th - Jan. 6th
Enchanted Lights is an outdoor, holiday walk-through experience for the whole family! Featuring a unique outing for all ages.

Looking for a fun and festive way to celebrate the holiday season? Come join us for our spectacular holiday walk-through light show! Our event features a dazzling display of twinkling lights, festive decorations, and holiday cheer that's sure to get you in the spirit. Enjoy hot chocolate and roast s'mores around the campfire with friends and family.

Take a stroll through our enchanted winter wonderland and marvel at the sights and sounds of the season. Our spectacular lights are perfect for friends, families, couples, or anyone looking for a magical experience this holiday season.

Don't miss out on this one-of-a-kind holiday event. Purchase your tickets today and get ready escape into a world of twinkling magic!